27th August 2003
Its been a while since I updated the Spitfire Restoration Pages, and to be honest its been a while since I did anything with the Spitfire.
This is mainly due to moving home, we bought a run down old house in Richings Park, Iver in Buckinghamshire and I have spent every spare moment working on that. Add that to extra responsibility at work then it is fair to say I have my hands full. If I have started it, you can see the story of the House's restoration at www.richings-park.co.uk .
As for the Spitfire it has a huge new home. The garage in this house is huge and the little Spitty sits in the corner looking very comfortable. However, I know that very soon I will have to do some work on it as the Speedo no longer works and the drivers side sill has given up the ghost. The Spitfire has not been used now for about a year and a half this is mainly due to my nearest train station being only a short walk away... and a new push bike..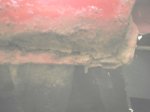 The nasty hole in the sill
I sold the Spitfire in January 2005 to fund the essential repairs to the Ferrari. Before selling her, I replaced the whole drivers side sill and got the car taxed and mot'd. Despite not being on the road for 2 years, it sailed through the test, but then heh, why shouldn't it?
It was one of the saddest days of my life, seeing her drive up the road and away for the last time - BUT you never know, one day I will see her on eBay and buy her back. All I need now is a larger garage!