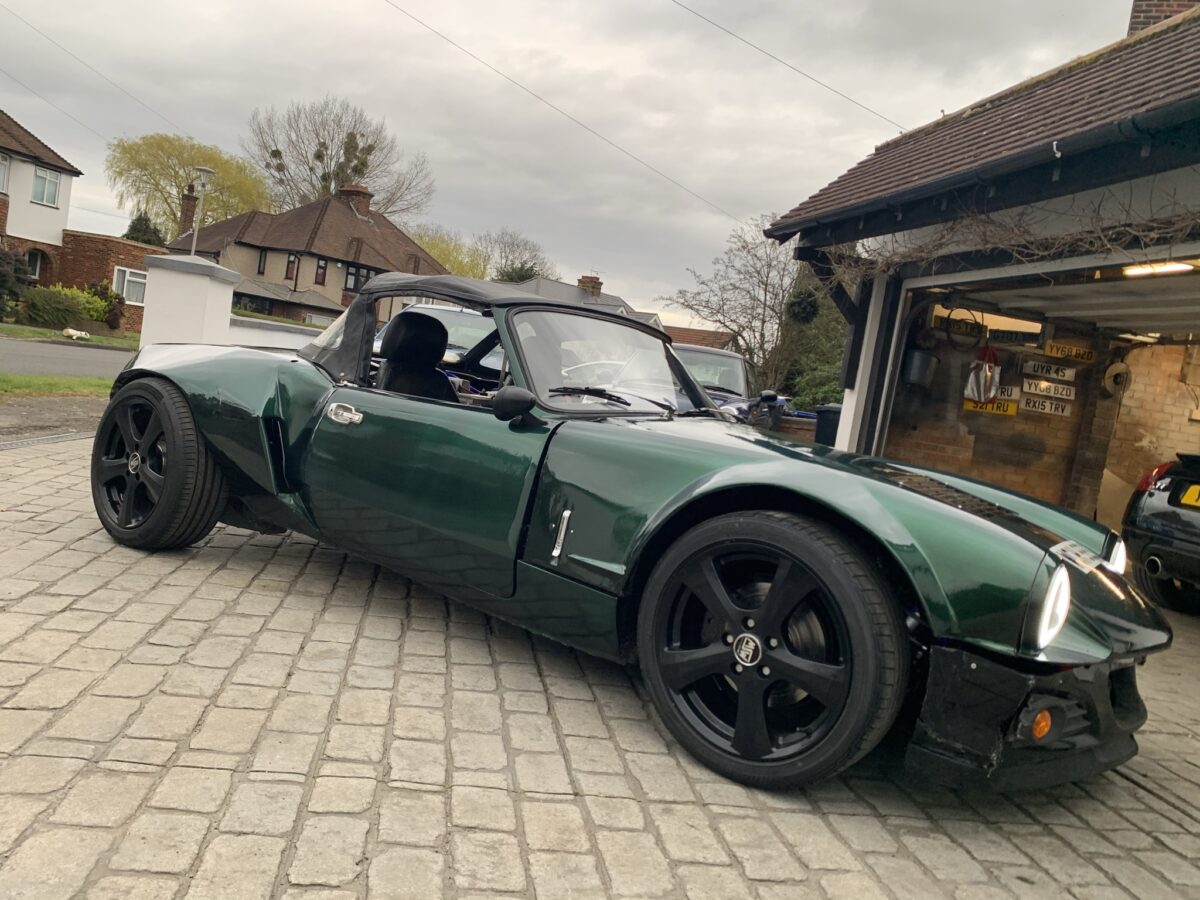 Cars and me
This is my 2nd major build, the first was my Zonda replica. That car divided opinion! Some loved it some really hated it. But I got a load of national press and publicity from it. In the end the Zonda was sold so I could rebuild the engine of my Ferrari.
When I was younger, I built loads of cars, I was always doing something with the.
My first car was a Fiat 850, I was given it just before I passed my driving test, the engine had seized and it hadn't run for a long time; Once repaired it was lovely, 850cc of pure Italian nothing 
A few weeks after passing my driving test all my friends and I went to Silverstone, for a track day, I ended up rolling that car at Becketts! The roof was crushed, wheels buckled and all the glass smashed, but I got it home and rebuilt it. The body had a major overhaul, the engine was upgraded with a twin choke Weber and big exhaust pipe, the car even had an air scoop on the bonnet… (I was young) and side pipes.. painted Ford Sapphire metallic blue, bucket seats and chains for door handles with furry door panels, Minilite wheels, twin headlights and Cibie fog lights and furry dice and a loud stereo
I drove it everywhere, the police loved stopping me in it..
I upgraded the fuel pump to an electric one and then it caught fire, outside a school in Wexham, Slough.
Then there was an Imp, a Hillman Imp Sport, that ended up having a 1000cc engine upgrade, ported cylinder head, Weber carbs, stage 2 camshaft… etc etc.. This car was super fast. I was working as a mechanic In Broadway tyres in High Wycombe at the time, and doing some labouring work.
Except I didnt put antifreeze in it, over one Christmas, it froze and split the block
Then a Spitfire EXF443H, a Mark 3 and it was lovely. If I remember correctly it started of as a 1196CC, then went to a 1300CC and eventually a 1800 straight 6 from a Vitesse.
In its 1300cc guise it had twin Weber downdrafts that poked through the bonnet, when it fired up flames would spit and pop up through the hood, looked impressive ( I was young)