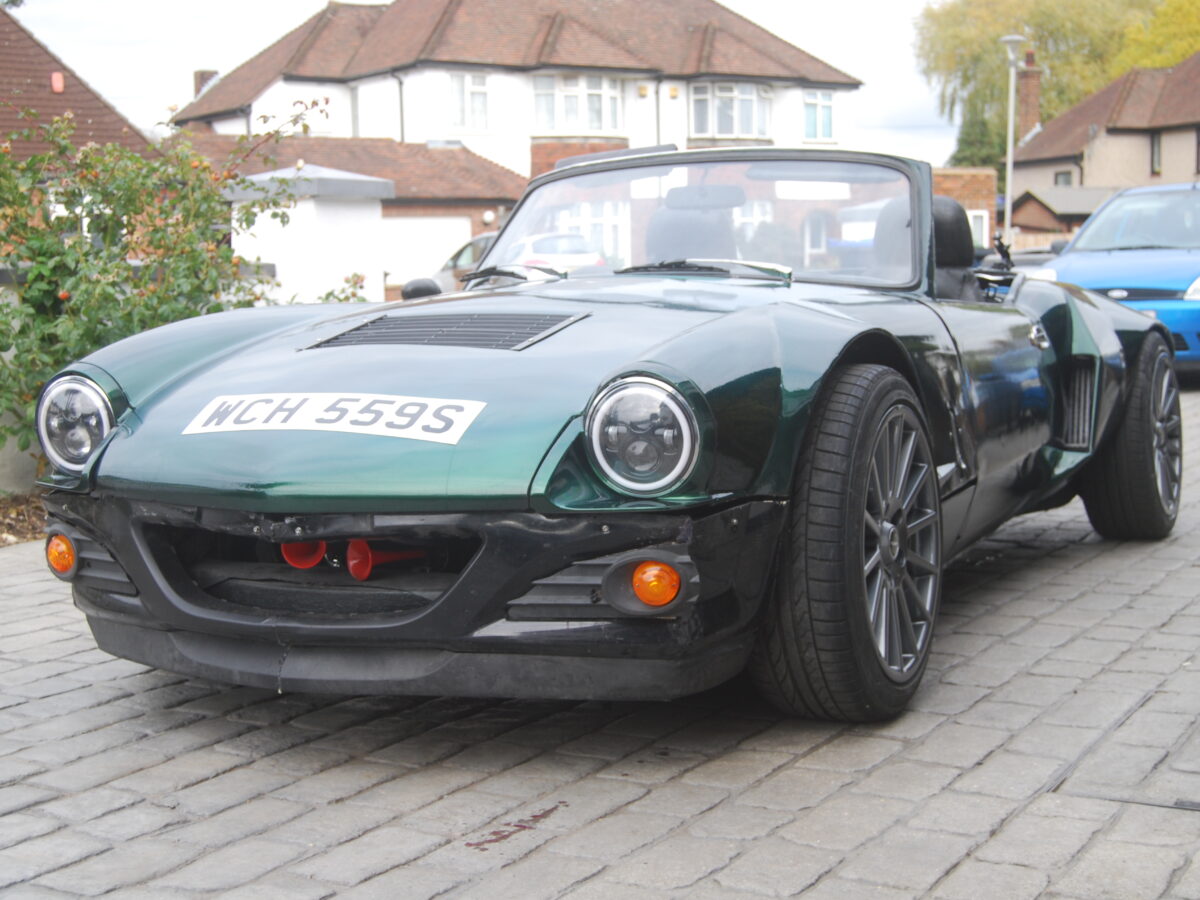 Living with the Mid Engined Spitfire
Unlike a standard car many of the parts on my Spitfire are custom made or stolen from another car manufacturer, so inevitably things need fixing, changing or tweaking. I guess my little car will never truly be finished.
So What as of the 27th January 2021 needs doing?
Wheels
New wheels – they are on my shopping list. The current Fox alloy wheels are nice but.. one of the rear wheels is not very round, they are also drilled for BMW hubs, i.e. 5×120. The rear hubs are Audi, 5×112 so I had to slot the wheels to make them fit.
So I want to replace them with a staggered look, 8″ x 17″ rear wheels with Audi PCD and the front 7.5 or 7″ x 17″ BMW PCD
Limited Slip Differential
The car has an open differential, that means only the rear left wheel drives the car. So when the rear wheels spin, only one moves, this makes the back of car very unstable as it spins them in all gears if I am too hard on the throttle.
I have bought a universal LSD, however I don't want to fit it into my gearbox, just in case it ruins it, so I am going to buy another Audi diff to work on. This is a job for the summer
Front wheel Geometry
I think when I made the front hubs I made a mistake, as the steering is very similar to a shopping trolley. So the most pressing and urgent job for this weekend it to sort that out.
31/1/2021
Today I sorted out the front geometry, well the tracking (wheel alignment) and caster anyway. The caster was neutral which meant the steering was horrible. I had meant to add 3 degrees caster, instead I added 3mm caster, so the car handled like a shopping trolley. the 3 degrees is the angle from the wheel pivot to where the lower balljoint connects to the hub. I was advised that 5 Degrees would be better, and 5 degrees on my uprights is 9mm from the centre line..
To set the tracking I went old school and made a jig.. 72″ pieces of wood bolted to the front and rear centre lines with string running parallel the length of the car. Then it is just a simple job of using a tape measure and adjusting the tracking. I set the alignment to 2 mm tow in.
I have also replaced the rear springs with some longer and stiffer ones. This has raised the rear slightly giving me more room on the rear arches.
Now the car drives in a straight line and the steering feels epic!